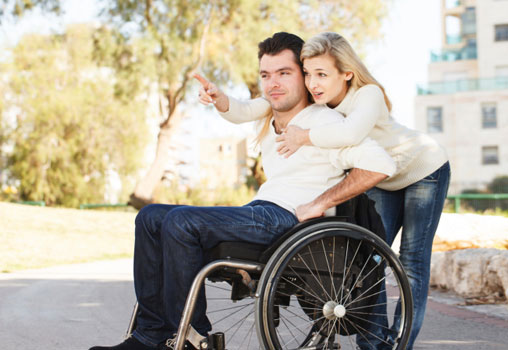 Can I get Social Security Disability or SSI for Multiple Sclerosis (MS)?
Multiple sclerosis is an autoimmune disease caused by the body's immune system attacking its own tissues and nerves.  In particular, it causes the immune system to destroy the fatty substances that coat and protect the nerve fibers in the brain and spinal cord. This causes nerve damage that disrupts communication between the brain and body.  MS can cause many different symptoms which vary person to person, including pain, weakness/fatigue, vision loss, cognitive impairment, and impaired coordination.  If a person's MS symptoms prevent them from being able to meet the demands of full-time work, they may be entitled to Social Security Disability for Multiple Sclerosis and/or Supplemental Security Income.  In particular Social Security will look to see if a person has the following:
Disorganization of motor function in two extremities resulting in an "extreme" limitation in the ability to stand up from a seated position, balance while standing or walking, or use the upper extremities
OR
A "marked" limitation in physical functioning and in one of the following:
Understanding, remembering, or applying information; or
Interacting with others; or
Concentrating, persisting, or maintaining pace; or
Adapting or managing oneself.
Even if you don't meet these exact parameters, you may still be approved for Social Security Disability if your MS causes such severe symptoms that you cannot work a full-time job.  You may also be found disabled if you have MS and other problems, such as diabetes, back problems, or depression, that combined with your MS prevent you from working.  The local Social Security Disability lawyers at Smith Godios Sorensen can help answer your questions about whether you might qualify for SSD and/or SSI benefits due to your MS or other physical and mental problems.  Contact us or give us a call today at 330-762-6474.
Social Security Attorneys Helping Thousands of People in Akron and Cleveland with Disabilities