Ohio Veterans' Claims for Disability Benefits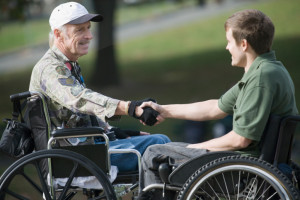 Veterans Disability, Our country owes a debt of gratitude to everyone who enlists in the armed forces and protects us. To those veterans who were injured during their service, and are now disabled, that debt of gratitude is even greater.
For a free consultation call 877-230-5500. You won't pay unless you get disability benefits.
When veterans enlisted in a branch of the armed services, they were promised that they and their families would be taken care of if they ever needed it. Unfortunately, many find it difficult to get the government to make good on that promise.
To contact a lawyer at Smith Godios Sorensen Inc., send us an e-mail today. We have offices Akron, Ohio.
Our attorneys are grateful for your service to our country. And we are passionate about helping clients gain access to the benefits they need.
Who can file a veterans disability claim for benefits?
Veterans and the spouses of deceased veterans can file claims for benefits. Here are the eligibility criteria for veterans' claims:
Service connected disability
You must have a "service-related" disability.
You cannot have been dishonorably discharged.
Non-service connected disability
You must be disabled (unable to work) or be over age 65.
You need to have served a minimum amount of time on active duty.
You must have limited assets and income.
You must have served during a time of war.
You cannot be dishonorably discharged.
The amount of compensation you will receive for a veterans' non-service connected claim depends on your income and assets. The maximum amount for a non-service connected claim is about $1,100 per month. For service-connected benefits, the amount is based on the degree of the severity of your injury or medical condition. All told, you can receive between about $133 and $3,000 in disability benefits each month for a service connected disability.
The experience to help you get the benefits you deserve
Attorney Christopher Godios has handled VA Disability claims since 2007. We know how to prove you are disabled — whether it's a physical disability or a mental disability like PTSD. And we can help you navigate the bureaucracy of the Veterans' Administration.
It's harder than it should be to get a veterans' claim for benefits approved. Many veterans' claims are denied on the first try. If your claim was denied, don't give up. With a lawyer's help, you can submit an appeal, provide evidence, and give testimony that the VA will have to fully consider.
For a free consultation with an attorney at Smith Godios Sorensen Inc., contact us online or call toll free at 877-230-5500. We're ready to help.